Monday, December 6th, 2010 at 12:15 am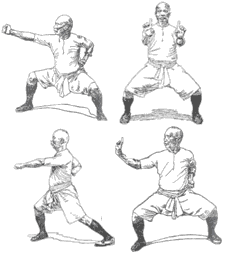 When people think about kung fu, a lot of people think about the old Shaw Brothers movies.  Some of their movies have become iconic, like the Master Killer (or The 36 Chambers of Shaolin) and the Five Deadly Venoms.  In a lot of these, especially when "Shaolin kung fu" was being used, a lot of actors were actually doing a style called Hung Gar.  Most famous of these is Gordon Liu, who was in Master Killer and was recently in Kill Bill vol1 and 2.  So what is this "Hung Gar"?
Hung Gar kung fu means the "Hung family style" of kung fu.  It's probably one of the most widely practiced kung fu styles in the world, and is famous as an exemplar of traditional Shaolin kung fu.  There are a number of different variants to Hung Gar, and a variety of myths, legends, and stories about the art.  Below is my personal understanding of the art.  I've practiced it since 1997 and it's what I'd call one of my "majors" in kung fu.  The description below is based on a number of different stories, so I've tried to find the commonalities among them, with the assumption that what overlaps should be closer to the truth.